The Showmans' Caravan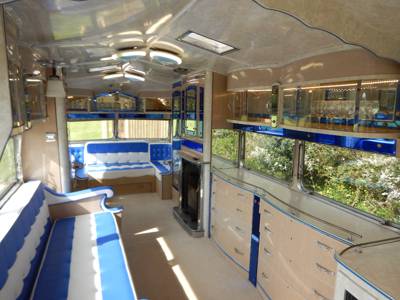 Set in a great location to get around South Pembrokeshire. This Showmans' caravan on our alternative campsite will leave you dazzled, from the mosaic mirrors to the neon blue lights it is unique in its decor.
Historically a gypsy showmans' caravan used for showing off, will suit families or a couple  perfectly. With a sofa that turns to bed in true caravan style you will feel as though you're on the road, however only a stone's throw away is our modern  facilities building with piping hot showers and toilets, (including disabled access).
The nearby facilities building has a kitchen area with sink, pots, pans, cutlery, fridges, toaster and kettle. Next to the yurt is a small structure with gas hobs in for cooking in. There is also a laundry area with washing machine and dryer which can be used by request at an additional cost. If you like to BBQ…we have a large gas fired grill station with two cooking rings on each side. Speaking of fire, your first nights wood for your wood burning stove is completely free, and thereafter all the wood you need can be found on site at a reasonable price. All well behaved dogs welcome. Guests respectfully requested to remove shoes when wet. Elsewhere on our alternative campsite, you'll see a variety of other glamping structures including a converted Jetstar aeroplane, Showmans' Caravan, Geodesic Dome, and coming soon – a UFO!  Our quirky campsite is designed to experience the outdoors in a rustic setting. We look forward to welcoming you to Apple Camping!
Please go to prices and booking to check availability, we look forward to meeting you.